Results for Northbrook AC good, bad & ugly, 27-Jul-2011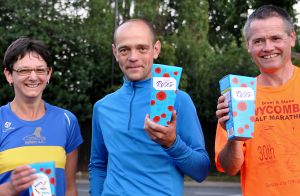 Six Sphinx AC runners infiltrated Northbrook AC's "Good, bad and ugly" race this week, with one of our teams taking second place.
Ash and Janine miles teamed up with Mitch Timms to form the first Sphinx team, and Mallory English, Lucy Smith and Bernard Blundell were the second Sphinx team.
The event was a relay race comprising of three 3.2-mile stages. The organisers tried to mix'n'match runners within teams so that their total time was around 70 minutes. Where this wasn't possible, teams were handicapped by delaying their start. Ash was handicapped by a full minute but still went on to comfortably win his stage.
Official results are here:
http://www.northbrookac.org.uk/results/monthly/2011/results_1107.htm